---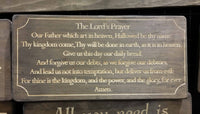 The Lord's prayer from the Holy Bible, one of the most popular Christian prayer Bible verses, Our Father which art in heaven... Jesus' famous words recorded in the King James Bible passage.
This beautiful home decor wall art wood sign is custom machine engraved on pine wood, and stained with a medium-dark antique brown finish. The handcrafted sign is machine carved and engraved for a beautiful natural look. The sign measures 9"x19" and is 3/4"thick, and features a metal hanger on the back. The beautiful natural characteristics of natural pine wood show through. PLEASE NOTE: You may not receive the exact sign shown in the photos, therefore there may be variation in wood grain, knots, and grain patterns. We believe this uniqueness adds to the character and charm of natural wood products.
If you desire a special sign, please contact us with your thoughts, and we'll see if we can accomodate you.